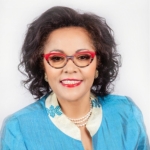 H.E. Madam Nardos Bekele-Thomas
CEO, Africa Union Development Agency-New Partnership for Africa's Development (AUDA- NEPAD)
NARDOS BEKELE-THOMAS is the Chief Executive Officer for the Africa Union Development Agency- New Partnerships for  Africa's Development (AUDA- NEPAD). She commenced this role  in May 2022 having been unanimously endorsed by the African  Union (AU) Heads of State and Government during the 35th Ordinary Session of the AU.  
Her immediate former role is as the Resident Coordinator of the  United Nations (UN) and Resident Representative of the United  Nations Development Program (UNDP) in South Africa. In 2016  she served as the Senior Director of the Office of the former UN Secretary-General, H.E. Ban Ki-Moon, in charge of the overall management of the Office of the Secretary-General, the Office of the Chef de Cabinet and that of the Deputy Secretary-General.  
Madam Bekele-Thomas has also worked as the UN Resident Coordinator and UNDP Resident  Representative in the Republic of Kenya and the Republic of Benin. In these roles she had the overall responsibility for high-level social, political, and economic policy advisory services to the  highest Government authorities at national and local levels and to key private sector and civil  society actors. Additionally, she has been responsible for the overall coordination of collective  UN operational activities for development results as well as the delivery of effective UNDP 
programme of assistance aimed at promoting and supporting pro-poor and inclusive economic  growth and development. The primary programmatic focus of her work includes policy dialogue  at the highest level of national governance, strategic public-private sector consultations, resource  mobilization, pro-poor policy and programme development and implementation at the local and  national levels.  
Prior to her appointment by the UN Secretary-General as Resident Coordinator and as Resident  Representative by the UNDP Administrator, in Kenya and Benin, she served for over four years  in Kenya as Deputy Resident Representative of UNDP with responsibility for the formulation and  implementation of UNDP programme of assistance to the Republic of Kenya. This included  support to national planning and development, private sector development, mitigation of the socio economic impact of HIV/AIDS, Governance, Capacity Building, Health Sector Reform as well as  Strategies and programme for Poverty Reduction 
Ms. Bekele-Thomas' professional experience and background in the field of development span  a broad spectrum, including private sector development strategies and policies, public policy;  decentralized governance and participatory development; public/civil service reform and  management; public-private sector strategic partnerships; women and youth leadership;  empowerment and employment; and Information, Education and Communication (IEC) for  development. She is the author of numerous articles and monographs and member of various  Professional Organizations including the Allied Social Sciences Associations (ASSA), and the  American Economic Association. 
As Private Sector Policy Adviser (1998-2001), Ms. Bekele-Thomas conducted extensive research  on private sector development, supported the strengthening of African business associations,  provided advisory services and played advocacy role in the development and management of  micro, small and medium-scale enterprises. Based on her strong belief in promoting women and 
youth empowerment, she has carried out policy studies and developed programmes on the  promotion of entrepreneurship and business skills training for employment and job creation. Ms.  Bekele-Thomas has worked in collaboration with regional and international organizations,  including the African Business Roundtable (ABR) and the Corporate Council on Africa to promote  trade and investment in African Countries through private/public sector partnerships in the United  States such as in the States of Connecticut, New Jersey and Arizona. She has served in technical  and advisory capacities such as Technical Advisor to the Government of Uganda (1994-1998), on  advocacy, formulation and successful implementation of Decentralized Governance and Private  Sector Development and as a member of the Presidential Advisory Group, Republic of Benin  (1990–1993), in which she helped initiate and conceptualize a pro-poor programme on the Social  Dimensions of Development.  
Over the last four decades, Ms. Bekele-Thomas has also lived and served in various capacities in  Ethiopia (1974-1982), USA, (New York) (1983-1987 and 1998-2004), India (1987-88), Bhutan  (1988-1989), Comoros Islands (1989-1990), Republic of Benin (l990-1993), and Uganda, (1994- 1998), promoting human development anchored on the principles of economic, social, and political  rights for all.  
Ms. Bekele-Thomas is a member of the Group of African Imminent Women, she is a recipient of  the prestigious AU/DAF Award of "2015 Woman of Excellence" along with the Presidents of  Liberia and former President of Malawi. She was also honored in 2007 as recipient of the Living  Legend Achiever's Award in recognition of her service and leadership role in the promotion of  sustainable human development globally, particularly in Africa. 
Ms. Bekele-Thomas holds a Master's Degree in Economic Development, Monetary Economics  and Econometrics from New York University (NYU).