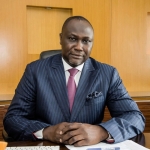 Samaila Zubairu
President & Chief Executive Officer, African Finance Corporation
Samaila Zubairu 
A champion for African value capture, job creation and industrialisation, Mr. Zubairu has  corralled billions of dollars into transformative infrastructure over three decades of leadership.  In his five years as President & CEO of the Africa Finance Corporation, Africa's leading  infrastructure solutions provider has almost tripled investments to $11.5 billion—including the  biggest renewable energy acquisition on the continent— and doubled membership to 40  African nations, winning AFC the accolade of Best DFI of the Year for Europe and Africa at the  recent IJ Global Awards. 
As the pioneer CFO for Dangote Cement Plc, Mr. Zubairu launched Africa's largest syndicated  project finance facility for a local corporation and managed the watershed unbundling of  Dangote Industries Limited to listed subsidiaries on the Nigerian Stock Exchange. Most recently,  as CEO of Africapital Management Limited, Mr. Zubairu partnered with Old Mutual's African  Infrastructure Investment Managers (AIIM) to develop the Nigerian Infrastructure Investment  Fund1 to drive private equity investment into infrastructure projects across West Africa. 
Mr. Zubairu is an Eisenhower Fellow and sits on the Board of Trustees for the fellowship.