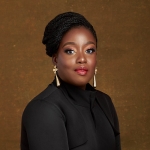 Somachi Chris-Asoluka
CEO, The Tony Elumelu Foundation (TEF)
Somachi Chris-Asoluka is the CEO of the Tony Elumelu Foundation (TEF), the leading philanthropy empowering young African entrepreneurs across all 54 African countries. Somachi is responsible for the overall development, implementation and execution of the Foundation's overall operations, strategic marketing and corporate communications, policy and advocacy, and TEFConnect - Africa's largest digital entrepreneurship ecosystem. 
Prior to her appointment as CEO, Somachi was the Director of Partnerships and Communication, where she played a key role in mobilizing partnerships that contributed to the Foundation's scaled impact of directly funding over 18,000 African entrepreneurs with up to $100 million, who went on to create more than 400,000 direct and indirect jobs in their communities. These partnerships with private institutions, global development agencies and government bodies include organisations such as the European Union, United Nations Development Programme, the International Committee of the Red Cross, Google, the United States Government, and many more. 
Since joining the Foundation in 2014, Somachi has also served as the Head of Research, as well as the Head of Policy and External Relations. Somachi graduated Summa Cum Laude from Saint Mary's College of California with a BSc. in Economics and minor in Mathematics and received the "Adam Smith" award given to the highest performing graduating student in Economics. She also has a Master's Degree in International and Development Economics from Yale University. She is a Deputy Champion of the World Economic Forum (WEF) EDISON Alliance. She is a member of the Financial Women's Association, San Francisco, USA, the Omicron Delta Epsilon (National Economics Honor Society, USA) and a fellow of the Moremi Initiative for Women's Leadership in Africa – a programme that annually identifies and engages the top 25 most promising women leaders on the continent.