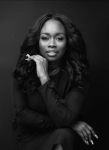 Claudia Kwarteng–Lumor
Founder of Kollage Media, producers of GLITZ AFRICA Magazine
Claudia Lumor is the Founder of Kollage Media, producers of GLITZ AFRICA Magazine. She is also a UN Ambassador Ghana (UNFPA) and Ghana Tourism Ambassador for Fashion Development. 
She graduated from the Kwame Nkrumah University of Science and Technology with a B.A in Economics and Law, and also studied Corporate Finance Law at the University of Westminster Law School, London. 
Claudia also holds an Executive Diploma in Publishing from Yale University. Her first job was with Santander Bank UK where she worked for 4 years as a Personal Banker and later as a Savings Specialist. In 2010, she moved to Ghana where she worked with Stanbic Bank for 2 years. In the year 2011, Claudia took a bold step and followed her passion of changing the narrative by promoting a tasteful depiction of Ghana and Africa as a whole - to promote investment, tourism and telling great stories of our icons and inspirational personalities to inspire others. 
This inspiration led her to set up her own company - Glitz Africa Magazine. 
Glitz Africa Magazine is a Pan-African aspirational lifestyle brand and its extensions include: 
• Ghana Women of the Year Honours, She Summit 
• Ghana Female CEOs Summit 
• Glitz Africa Fashion Week, Beauty Forum  
• Glitz Style Awards 
• Glitz Africa Living Magazine 
• Glitz Africa Care Foundation; a foundation created to focus on maternal health/childcare issues as well as women and youth advocacy. 
• SheAfrica Dialogue 
• SHE Boss Global 
Glitz Africa championed and pioneered the developing fashion industry we have in Ghana now. She has led key fundraising and projects for UNFPA as their Goodwill Ambassador. She has been celebrated in various platforms for her passion for women/children advocacy, her innovation and commitment to fashion development in Ghana and in the sub-region. Claudia is also on selected boards. 
She is married with 3 kids. 
Achievements/Awards 
• British Council Fashion & Design Young Creative Entrepreneur of the Year 2015 • Start-up Entrepreneur of the Year 2017 
Claudia has also been honoured on various platforms including: 
• BoF 500 
• Top 50 African Event Influencers 
• 40 Most Inspirational Female Leaders in Ghana 
• Top 40under40 business leaders in Ghana 
• Top 50 young entrepreneurs in Ghana 
• 100 Most Influential Women in Ghana 
• The Most Influential Young Ghanaians 
• Most inspirational Women in Ghana,
• Most powerful players in African Fashion in a UK publication to mention a few.