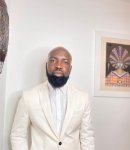 Audu Maikori
Founder/Executive Vice Chairman of Chocolate City Group
Audu is a multi award winning entrepreneur, entertainment lawyer, and expert in the creative industry. He is renowned as the Founder/Executive Vice Chairman of Chocolate City Group, a prominent media and entertainment conglomerate. This group comprises entities such as Chocolate City Media, Chocolate City Kenya, CCX, and Chocolate City Music – one of Africa's largest record labels. It has been instrumental in the careers of multi award winning artists Young Jonn ,Ckay, Blaqbonez Femi Kuti, M.I Abaga, and CandyBleakz. In a groundbreaking move, Chocolate City partnered with Warner Music Group in 2019 to expand Afrobeat music's global presence.
Audu is also Co- Founder/ CEO of Pixel Ray Studios a Pan-African film studio and soundstage production company which aims to improve the quality of film production across Africa and the Caribbean by establishing world class film studios and schools in key markets. PRS is currently working with the Governments of Ghana and Barbados in this regard. 
Audu is well recognized as one of the pioneers of  Afrobeats music genre. He has spearheaded copyright reforms, led vital committees in the Nigerian Senate, and contributed significantly to the development of policies to aid the growth of the Nigerian creative industries.
Passionate about social justice and entrepreneurship, he has evaluated aspiring entrepreneurs in prestigious panels like Microsoft's Passion to Empire, Chivas The Venture Competition, and M.I.T Inclusive Innovation Global competition. Audu serves on boards of severall organizations, including Syndicate Limited, Recycle Points, Global Rights Africa, NESG, Limitless Studios, and Esaiyo.
Audu's educational journey spans the University of Jos, Pan African University, Lagos, and Massachusetts Institute of Technology (MIT) Sloan School of Management. His multifaceted career encompasses entertainment, law, social justice advocacy, and entrepreneurship, leaving an indelible mark on the global creative landscape.