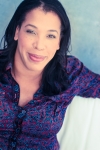 Ayanna Lonian
Director and Head of Worldwide Major Studio Licensing Strategy at Amazon Prime Video
Ayanna Lonian is a Director of Content Acquisition and the Head of the Worldwide Major Studio Licensing & Strategy Team for Amazon's Prime Video streaming, subscription on-demand (SVOD) video service. In this capacity, Ayanna leads a team of content acquisition executives which is responsible for negotiating global content licensing agreements with US major studios and TV network groups to secure the SVOD streaming rights to popular TV series and movies which Amazon makes available on its Prime Video streaming service on a worldwide basis. In addition, she oversees the daily business activities, general management and business functions for Prime Video Direct (PVD) (https://videodirect.amazon.com) on a worldwide basis.  Ayanna leads a content program management team which is responsible for facilitating the internal execution and ingest of all of Prime Video's worldwide SVOD licensing agreements with internal stakeholder teams and systems (e.g., Accounting, Video Supply Chain, etc.) post deal-execution/deal-signature.  Ayanna is also responsible for managing the dedicated team of content acquisition executives who acquire locally produced Nigerian/Nollywood, South African, etc., and US/Hollywood content on behalf of Prime Video's service in sub-Saharan Africa (e.g., South Africa, Nigeria, Kenya etc.).
Prior to her current role at Amazon.com, Ayanna was on the content distribution team for The Walt Disney Company's Disney and ESPN Media Networks (DEMN) division.  In that role, she was responsible for negotiating key deal terms (e.g., distribution parameters, license fees, marketing commitments, etc.) with cable, satellite and telco operators for the US domestic distribution of ABC Entertainment, ABC News Now, Disney Channel, Disney Junior, Freeform, ESPN, ESPN2, ESPN Classic, ESPNEWS, ESPN Deportes, ESPN HD, ESPN2 HD and ESPNU content on linear TV and digital platforms. 
Prior to The Walt Disney Company, Ayanna was a member of the Corporate Planning team at The New York Times Company. In this role, she performed valuation and due diligence analysis to support corporate acquisitions, including NYTCo.'s $33M acquisition of ConsumerSearch.com. 
Prior to NYTCo., Ayanna was a member of the Consumer Devices, Media & Entertainment research team at Forrester Research, where she co-published reports analyzing the impact of emerging technologies on the media and entertainment industries for Fortune 500 clients. Prior to Forrester, Ayanna worked in a product management role for Africana.com. There she was part of the original 6-person team that built Africana from the ground up. Her day-to-day responsibilities included developing unique programming and interactive features for Africana.com's content verticals. She remained at Africana.com until its acquisition by the Time Warner Company. The site was subsequently integrated into AOL Blackvoices.com.
Ayanna is an alumna of Phillips Exeter Academy, Harvard College and the Kellogg School of Management.