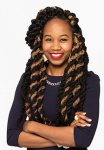 Christine Souffrant Ntim
Founder and CEO of Global Startup Ecosystem (GSE)
Christine Souffrant Ntim is an award-winning Haitian-American & Ghanaian, tech ecosystem expert for emerging markets. She was selected and featured in Forbes 30 Under 30, AdAge 40 Under 40, TEDx, Entrepreneur Magazine, Essence, Black Enterprise, Ebony Magazine, Huffington Post, Inc Magazine, Haiti Changemakers 1804 List, and more.
After a successful career in banking and non profit development, Christine started her tech career as the founder of Vendedy (currently a case study at Harvard business school)- which is a social enterprise connecting tourists to street markets via a central digital database. The marketplace of street foods and street products was created with the aim of digitizing a $10 trillion dollar black market economy and alleviating billions of street vendors out of poverty.
Today she is the founder and CEO of Global Startup Ecosystem (GSE), a tech recruitment company that is home to the world's first digital talent career accelerator platform and the fastest growing network of tech summit programs in emerging markets. With a mission to prepare individuals and institutions for the digital age, GSE brings together celebrities, corporate leaders, government officials, and tech ecosystem influencers to build tech career hubs that can support the sustainable development goals of workforce empowerment by 2030. The objective is to build the workforce of the future.
A well sought after serial entrepreneur, Christine speaks on digital entrepreneurship, personal branding, career planning, and future tech for emerging markets at over 20+ global conferences a year- which includes former appearances at the United Nations, Davos, TEDx, SXSW, European Union Forum, SEC- Security Exchange Commission, US State Department Tours, New York City Mayor's Office, Startup Grind Global, SeedStars World, and more.
For fun, she travels and binge watches top business shows with her husband and 4 kids.
Top Awards:
Forbes 30 Under 30

Adage 40 Under 40

Caribbean Changemakers 30 Under 30

Most Influential People of African Descent 40under40

Bill Gates Millennium Scholar

Haitian Roundtable 1804 Changemakers

GES 2017 USA Representative

Clinton Global Initiative University Honor Roll