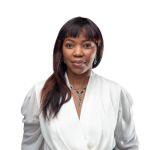 Sophie Mahlogonolo Masipa
Co-Founder and CEO, MwunganoESG ; Founder, Kgommuu International
Sophie Masipa is an entrepreneur, marketing and communications specialist and speaker. 
Sophie Masipa is the Co-Founder and CEO of MwunganoESG, the first a pan-African ESG specialist  consultancy that assists African and international organisations to develop a curated holistic  communications approach to ESG, sustainability and climate change for a more inclusive economy.  
Sophie is Founder of Kgommuu International, an environmental infrastructure development and  investment company that aims to bridge the blue economy, circular economy, technology and  inclusive industrialisation. 
Previously, she served as the Head of Communications and Media Relations at the Mo Ibrahim  Foundation and occupied various brand and marketing positions within Brand South Africa Unilever,  Colgate-Palmolive and Nedbank. She has solid experience and track record in areas of marketing,  branding and communications. 
Sophie is a non-Executive Director of Ocean Hub Africa, Advisory Board Member of Genesis Energy  South Africa and Africa Communications Week, and the Southern and East Africa Associate for the  World Ocean Council.  
She is a member of AfroChampions, the ULTRAMARINE Community, Women in Sustainability, the  African Circular Economy Network, Africa 2.0 and the African Leadership Network. 
Sophie was named one of the Top 100 Most Influential People of African Descent under 40 in the  Diaspora under the Governance and Politics Category. She is a Crans Montana Forum New Leader for  Tomorrow 
She is passionate about African development.