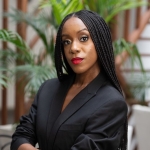 Lakeshia Ford
Founder, Ford Communications
Lakeshia Ford is a communications strategist who is passionate about connecting African businesses to the global market and mobilizing public diplomacy in Africa. She has spent her professional life working in media and international relations, gaining experience from companies such as CNN International, Viacom Inc., M&T Bank, United Nations Information Centre and the U.S. Department of State (Bureau of Consular Affairs).
From her work experience and studying in Ghana, Lakeshia realized that African narratives, if not neglected, were deeply misrepresented in Western media and institutions. The gap led her to move to Ghana and start Ford Communications, a 360-degree strategic communications agency that provides public relations, brand management and market entry services. The organization uses its core offerings to help local companies gain international exposure and assists international businesses effectively connect with markets throughout Africa. 
Through Ford Communications, Lakeshia has worked with institutions and brands such as World Remit, Arsenal Football Club, Patron Silver, The British Council, MTN Ghana, Ghandour Cosmetics and organizations like the British Council, the African Union and United Nations Conference on Trade and Development (UNCTAD) to name a few and has serviced companies across industries from oil and gas to technology, with business to business marketing strategies. Having worked and schooled in Ghana since 2008, Lakeshia is adept at market intelligence, at all segments. 
Lakeshia is a strategist and sits at the intersection of diplomacy, marketing and Africa. She uses culture as a tool to forge business and connection between disparate audiences. Under Ford Communications, she produces special projects that elevate this effort. For example, she founded Beyond the Return Afro-Caribbean Festival WoodXWatta™ a multi-city destination experience that connects the futures of Africa and the Caribbean through trade, investment and pop culture.  In November 2019, Ms. Ford was featured in a BBC documentary which covers the Year of Return. In this piece, she sheds light on her work in Ghana and the opportunities the African continent holds for those willing to take action. Lakeshia launched a podcast called Yard Abroad, which unpacks living and doing business in Ghana, in efforts to support expats and businesses with their move to Ghana. The podcast will be rebranded to Africa Beyond Travel™, which will speak more to investing and trading with African businesses. She intends to continue to scale these efforts through collaboration.  In 2022, Ms. Ford was part of the organizing team on Chance the Rapper and Vic Mensah's Black Starline Festival and will expand her collaborations in 2024.
Lakeshia attended Spelman College, where she earned a Bachelor's degree in Economics and International Studies. She also gained an M.A. International Communication from American University in Washington, D.C., and has extended her knowledge of media, data and technology through the University of Oxford's Media Policy and Technology Programme.
Lakeshia is Jamaican-American and lives in Accra, Ghana. She's a lover of Christ, passionate about innovation, diplomacy, body movement and food. 
Shorter Biography 
Lakeshia is a communications strategist and CEO of Ford Communications a 360-Degree Public Relations Agency and Communications consultancy servicing Africa, America and the Caribbean. Her work is at the intersection of diplomacy, marketing and Africa. In addition, Lakeshia is the Vice President of the Ghana-Jamaica Chamber of Commerce and founder of Afro-Caribbean Festival 'Wood and Water,' which focuses on connecting the futures of Africa and the Caribbean/Diaspora through trade, investment and pop culture. Lakeshia has lived and done business in Ghana for over 10 years and is passionate about facilitating trade relations between emerging market. Lakeshia is working with businesses from Africa and the Caribbean to trade services and products across regions. Ms. Ford earned her B.A. Economics from Spelman College and M.A. International Communication focusing on Public Diplomacy and Information & Communication Technologies for Development from American University School of International Service and a certificate in media and data policy through the University of Oxford (Media Policy and Technology Programme).