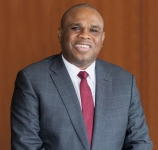 Prof. Benedict Oramah
President and Chairman of the Board of Directors, African Export-Import Bank (Afreximbank)
Professor Benedict Oramah is President and Chairman of the board of Directors of African Export–Import Bank (Afreximbank). He was appointed in 2015 after serving with distinction in other leadership positions at the bank since 1994. Over his 29 year-long career, Afreximbank, a leading pan-African development finance institution, has made impressive strides. The Bank has grown its assets from about US$5 billion at the end of September 2015, when President Oramah assumed office, to US$31.1 billion by December 2022.  The Bank has also diversified its sources of income while achieving impressive global credit ratings and performance metrics. 
Prof. Oramah holds M.Sc. and Ph.D. degrees from Obafemi Awolowo University, Ile-Ife, Nigeria. He is a recipient of many awards and honors including the Nigerian national honor of the Commander of the Order of the Niger (CON) and the 2023 AABLA "Business Leader of the Year" award in partnership with CNBC.
In addition to serving as chairman of the Board of Directors of Afreximbank and its subsidiaries, he is the chairman of the Executive Committee of the Arab-Africa Trade Bridges (AATB), and the chairman of the Board of Trustees of the African Union Covid-19 Response Fund. He is also a member of the Intra-African Trade Fair (IATF) Advisory Council, the Practitioners Advisory Board of the Institute for Trade and Innovation (IfTI) at Offenburg University, Germany, and the Emerging Markets Advisory Council of the Institute of International Finance (IIF-EMAC).