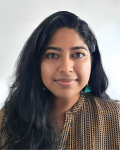 Shakti Ramkumar
Senior Director of Policy and Communications, Student Energy
Shakti Ramkumar is a climate action and clean energy advocate, passionate about collectively building a globally equitable energy system that operates within our planetary boundaries. Shakti is currently the Senior Director of Policy and Communications at Student Energy, a global youth-led organization working with a network of 50,000 young people in 120+ countries to accelerate the transition to a just and sustainable energy future.
Shakti directs Student Energy's research and youth engagement portfolio, which has published research including the Global Youth Energy Outlook, Youth Impact Framework, and the Energy Transition Skills Project. She also leads the development of accessible energy education content for the Energy System Map, which has reached 17 million users globally. 
Shakti regularly speaks about the crucial role of youth in just energy transitions in spaces including UN Climate Change Conferences (COP) in Madrid, Glasgow, and Sharm El-Sheikh, the Clean Energy Ministerial and Mission Innovation forum, the Canadian Energy Regulators' Conference (CAMPUT), and media outlets including the CBC, BBC, and National Observer.