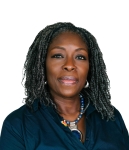 Zouera Youssoufou
Managing Director/CEO, Aliko Dangote Foundation (ADF)
Zouera Youssoufou is the Managing Director/CEO of the Aliko Dangote Foundation (ADF), the largest private Foundation on Africa, based in Lagos. In this role, she leads the Foundation's efforts to improve the health, nutrition, education and economic empowerment outcomes for the needy, primarily in Nigeria and in Africa. Zouera is responsible for the Foundation's short, medium and long term strategies, provides overall management oversight for the Foundation, and provides support on Social Investments to the Corporate Dangote Group.  She sits on several Boards including Women's World Banking, Private Sector Health Alliance of Nigeria, ONE Global Leadership Circle, Center for the Strategic Studies on Africa, International Institute for Sustainable Development (IISD), and African Business Coalition for Health (ABC Health).  As of March 2020, Zouera also coordinates the Secretariat of CACOVID, the Nigerian Private sector coalition against Covid-19. 
Prior to joining ADF, Zouera was the World Bank Country Manager for Gabon, Equatorial Guinea and Sao Tomé and Principe. In that role, she was the front-line person in the relationship with all three Governments and conducted day-to-day dialogue with all levels of Government, donors and civil society. Prior to this, Zouera spent 6 years at the International Finance Corporation (private sector arm of the World Bank Group), where she led the Global Women in Business Program (WIN). In that role, she was responsible for creating opportunities for women entrepreneurs in the developing world, specifically in Access to Finance. Zouera joined the World Bank Group in 2005 from Citigroup's Smith Barney unit in New York and Atlanta where she covered emerging markets and 13 industry sectors as an Equity Research Analyst. Her previous experiences include working with the European Union on private sector development issues, and management consulting with Deloitte in Ghana.  
Zouera holds an MBA in Finance from New York University's Stern School of Business and a BBA in Marketing from the University of Massachusetts at Amherst's Isenberg School of Business.  She is fluent in English, French, Spanish and Hausa. She is married, with a son and a daughter.