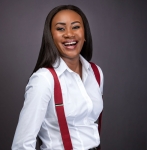 Chido Cleopatra Mpemba
Special Envoy on Youth to African Union Chairperson & Cabinet
Chido Mpemba is the Youngest Diplomat in the African Union Chairperson's Cabinet. She leads on youth affairs, fronting the voices of over 870 million youth across the Governments in Africa as the African Union Special Envoy on Youth appointed by the Chairperson H.E Moussa Faki Mahamat and a decision endorsed by the Africa Heads of States for the inclusion of youth in the leadership structures of the African Union. 
Chido has been recognized as one of the '100 most Influential African Women' alongside African Female Heads of States and was also named as one of the 'Top 100 Under 40 Most Influential People of African Descent'. A former corporate banker by profession and social entrepreneur with investments in the hospitality industry, she has become a public policy expert with a keen interest and focus on geopolitics whilst pushing to end global inequalities with the interest of youth in the forefront. Earlier this year she founded a digital transformation campaign that has been launched in over 9 countries and has had an impact on over 1000 young people, through a public-private sector approach in tackling some of Africa's challenges. 
Chido launched a listening tour campaign in 2022 and has visited over 30 Countries to engage with young people, encouraging solution focused intergenerational dialogues for socio-economic development, in addition using the opportunity to plant over 200 fruit trees to date in driving climate action to offset her carbon footprints and encourage food security in marginalized communities. A sought-after global moderator, she has moderated sessions for United Nations Special Advisor on Africa and the United Nations General Assembly President. As a young thought leader, she has published opinion pieces with the World Economic Forum, London School of Economics, Google and featured on META's "Africa's Rising Stars" Series and BBC's Focus on Africa Documentary Feature and Podcast. 
Chido is currently a commissioner under the Climate Governance Commission which is chaired by the former President of Ireland and Chair of the Elders, Mary Robinson, she is a Leadership Council Member for Africa Reach which is Chaired by the President of Africa First Ladies and the First Lady of Namibia Monica Geingob and in addition a Global Leadership Council Member of Generation Unlimited. Chido is an alumni of the Emerging Security Sector Leaders (ESSL) Program from the Africa Center of Strategic Studies at the U.S National Defense University and an Alumni of President Obama's Young African Leaders Initiative as a former Mandela Washington Fellow.