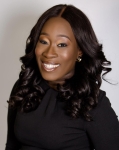 Deniece Laurent-Mantey
Special Advisor on U.S.- Africa Leaders Summit Implementation, U.S. Department of State
Deniece Laurent-Mantey currently serves as a Special Advisor in the Bureau of African Affairs at the U.S. Department of State. In that role, she is responsible for implementation of President Biden's U.S.- Africa Leaders Summitcommitments. From March 2021-June 2022, she served as the Director for Southern Africa and Trade and Investment at the White House National Security Council where she was responsible for U.S. bilateral relations with southern African countries and led the successful relaunch of the Prosper Africa initiative. In July 2023, Laurent-Mantey transitioned to the National Security Council's Director for the U.S.-Africa Leaders Summit where she led over 18 U.S. government agencies and coordinated with various stakeholders to implement and execute President Biden's priorities and commitments for the 2022 U.S.-Africa Leaders Summit. In advance of the Summit, Laurent-Mantey led efforts to help generate $15 billion in new commitments to support trade and investment across Africa, and a $55 billion commitment in putting considerable new resources toward advancing U.S.- Africa shared priorities over the next three years. Under her leadership, the White House launched the Digital Transformation with Africa (DTA), a signature initiative of the Biden-Harris Administration to invest over $700 million in Africa's digital transformation.
 Laurent-Mantey was the policy architect behind the creation of the President's Advisory Council on African Diaspora Engagement in the United States, which was announced by Vice President Kamala Harris at the U.S.-Africa Leaders Summit to strengthen the dialogue between United States officials and the African diaspora.
 Laurent-Mantey began her career at the U.S. Department of State in 2008. From 2019-2021, she served as a member of the Secretary of State's policy planning staff, where she provided U.S.-Africa policy recommendations to the Secretary of State. From 2014-2019, she held the position of Acting Deputy Director and Desk Officer in the Bureau of African Affairs. From 2012-2014, Laurent-Mantey served as Special Assistant to Secretaries of State Hillary Clinton and John Kerry; and Staff Assistant and intern in the Bureau of Oceans, Environment, and Science; the Bureau of Democracy, Human Rights, and Labor; and the Bureau of African Affairs from 2008-2012. 
Laurent-Mantey is the recipient of two Department of State Superior Honor Awards and two Meritorious Honor Awards. She was named one of the Most Influential People of African Descent (MIPAD) in 2018. She graduated from Howard University with an MA in African Studies and Public Policy and has a BA in International Relations from Syracuse University. She is married to Rev. Henry Laurent-Mantey and they are the proud parents of three boys.