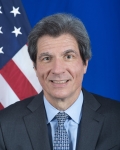 Jose W. Fernandez
U.S. Under Secretary for Economic Growth, Energy, and the Environment
Jose W. Fernandez was confirmed by the Senate as Under Secretary for Economic Growth, Energy, and the Environment on August 6, 2021.  He leads the State Department's bureaus and offices that stand at the center of the Biden-Harris Administration's efforts on climate change, clean energy, health, supply chain security, and other economic priorities. Under Secretary Fernandez is also the United States Alternate Governor to the World Bank, the European Bank for Reconstruction and Development, and the Inter-American Development Bank.  From 2009 to 2013, he served as the Assistant Secretary of State for Economic, Energy, and Business Affairs, one of the bureaus he now oversees.
Prior to his most recent appointment at the Department of State, Under Secretary Fernandez was a partner at Gibson Dunn & Crutcher LLP in New York. His practice focused on mergers, acquisitions, and finance in Europe and emerging markets, advising U.S. and foreign clients in the telecommunications, energy, water, banking, and consumer industries. He was named one of the "World's Leading Lawyers" by Chambers Global for his M&A and corporate work, a "Highly Regarded" practitioner by the International Financial Law Review, and one of the "World's Leading Privatization Lawyers" by Euromoney Publications.  He has been chair of the Inter-American law committees of both the American Bar Association and The Association of the Bar of the City of New York, as well as of the Cross-Border M&A and Joint Venture Committee of the New York State Bar Association.  Most recently, Fernandez was an adjunct professor at Rutgers Law School, where he taught the course on international business transactions. 
A life-long supporter of the arts and education, Under Secretary Fernandez has served as a trustee of Dartmouth College and NPR-station WBGO-FM, and on the Board of Directors of Acción International, the Council of the Americas, Ballet Hispanico of New York, the Middle East Institute, and the Partnership for Inner City Education. He was the Transition Policy Director for then-Governor-Elect Phil Murphy of New Jersey in 2017, and a director of Iberdrola S.A. until assuming his current position.
The Under Secretary graduated from Dartmouth College and received an honorary degree from the College. He earned a Juris Doctor from Columbia University School of Law, where he was awarded the Charles Evans Hughes Prize and a Parker School Certificate of International Law with honors.