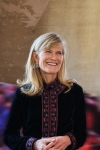 Jacqueline Novogratz
Founder and CEO of Acumen
Jacqueline Novogratz is the Founder and CEO of Acumen, a global community that fights poverty and builds dignity by investing in companies and change makers using both philanthropy-backed pioneer investing and for-profit impact funds. Jacqueline's two decades of work with Acumen have impacted over 500 million people across Africa, Latin America, South Asia, and the United States. 
To date, Acumen has invested more than $154 million of patient capital into 167 companies, and is also responsible for nearly $243 million in assets under management via its for-profit funds. Realizing that human capital is as critical as financial capital, Acumen also trains social entrepreneurs and innovators through Acumen Academy, which has cultivated 1,300 leaders in 61 countries. Through its online courses, Acumen Academy has influenced more than a million individuals from 193 countries.
Jacqueline is the author of two award-winning books: the best-selling The Blue Sweater (2010), and Manifesto for a Moral Revolution: Practices to Build a Better World (2020). She is a member of the B-Team and serves on numerous boards and advisory boards. She has been named one of the Top 100 Global Thinkers by Foreign Policy, one of Insider's Climate Action 30 leaders, one of the 25 Smartest People of the Decade by the Daily Beast, and one of the world's 100 Greatest Living Business Minds by Forbes. She holds an MBA from Stanford University and a BA in Economics/International Relations from the University of Virginia.