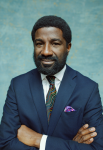 Tokunbo Akerele
Chairman of Style House Files Limited
Tokunbo has seen to the successful and seamless establishment of international partnerships in the biggest markets in Sub-Saharan Africa across diverse sectors including mobile technology, fashion, financial services and charities. He has acted in the capacity of Non-Executive Director, specifically Chairman, across various companies including Style House Files Limited, a fashion development agency that primarily focuses on the advancement of the African fashion Industry and wholly owns the Lagos Fashion Week platform, and Cellfind Nigeria, a leading mobile technology solutions company that provides tailored mobile solutions, location-based services, aggregation solutions, mobile applications, and value-added services to the mobile networks. 
Notably, Tokunbo Akerele has recently taken up a significant role on the Nigerian Government's Presidential Committee for Fiscal Policy and Tax Reforms. He has also held the position of Chairman at Business Connexion Nigeria BCX, a wholly-owned subsidiary of BCX SA, a prominent IT Outsourcing Company and the largest provider of data services in Africa. BCX SA is publicly traded on the Johannesburg Stock Exchange (JSE) with a substantial market capitalization exceeding US$200 million. Additionally, Tokunbo served as a Board Member on the Board Audit Committee of Stanbic IBTC Bank Plc, a company boasting revenues surpassing ₦150 billion and a listing on the Nigerian Stock Exchange. During the period from 2004 to 2015, he also assumed roles as a shareholder and Non-Executive Director at Altech West Africa, a key player in manufacturing starter packs and scratch cards (top-up cards) for telecommunications operators. 
Tokunbo was pivotal in establishing Altech West Africa as he leveraged his strong network in Nigeria to obtain all necessary licences and approvals from the Nigeria Communications Commission (NCC). Tokunbo was a Board Member of the Samsung Corporate Citizenship Advisory Group and acted as an Independent Advisor to Samsung. He was a Director at Veritas Geophysical (2003-2007), a leading seismic company involved in the acquisition and processing of seismic data. 
At Veritas, Tokunbo managed government relations on behalf of the company. Over the years, Tokunbo has honed his leadership skills as the Managing Partner of TOA Advisory Services, an African Market Entry and Business Development Company working extensively to position international companies to successfully navigate Africa's foremost emerging markets. Tokunbo sits on the Prince's Trust International Africa Advisory Board as a Board Member - the international arm of the Prince's Trust, the UK's leading youth charity, founded by HRH, King Charles III. It works with partners around the world to deliver education, employment and enterprise programs that empower young people to learn, work and thrive. 
Tokunbo is also a trustee of Inspire Foundation, a non-profit organization set up to promote leadership by fostering knowledge sharing, mentorship and networking between current exemplary leaders and next-generation leaders. This platform provides inspiration and nurturing to members- young business leaders.