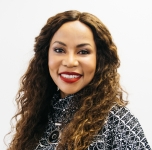 Dr. Precious Moloi-Motsepe
Co-Founder and CEO of the Motsepe Foundation
Trained as a medical doctor specialising in child and women's health, Dr Precious Moloi-Motsepe is a philanthropist, Chancellor of University of Cape Town, and founder of African Fashion International.
Co-Founder and CEO of the Motsepe Foundation – one of the largest philanthropic organisations on the continent – she directly supports 12 of the 17 SDGs. Through Motsepe Foundation she has supported the university education of over 2,500 students, spearheaded Gender Responsive Budgeting Initiatives to the South African parliament, and published a resource guide The Little Black Book for marginalised women. 
Other Motsepe Foundation programmes include primary and secondary education and leadership initiatives; sports, music and arts; community development; a Centre for Gender Equality, Wellness and Leadership; and work with stakeholders and governments on initiatives to promote social cohesion, including a partnership with the Schwab Foundation for Social Entrepreneurship. 
Dr Moloi-Motsepe, with her husband, was the first African couple to join the Giving Pledge and one of the first co-investors from the continent to join the Breakthrough Energy Venture.
Conceptualised as a platform to promote pan-African design and storytelling, her company African Fashion International has propelled numerous continental designers into the global market since 2007.
Initially established as owners and producers of Fashion Week, Dr Moloi-Motsepe currently oversees two bi-annual pan-African Fashion Weeks, a pan-African retail concept store and e-commerce platform, as well as a high-end luxury events arm of African Fashion International. The first Fashion Week on the continent to receive sponsorship from Mercedes Benz, African Fashion International is home to over 100 designers from Africa and the diaspora. 
Her philanthropic passion for education and skills development is evident through the African Fashion International Fastrack programme, which discovers, trains and mentors emerging designers who have since become renowned in the industry.
Recognised by editor Franca Sozzani, Dr Moloi-Motsepe received the inaugural Fashion 4 Development Franca Sozzani award and served as the only advisor from sub-Saharan Africa for the Copenhagen Fashion Summit. In 2022, she was honoured by Credit Suisse at the World Economic Forum Annual Meeting as Woman of Impact. 
Career
African Fashion International, Founder, 2007 – present, South Africa
Motsepe Foundation, Co-Founder and CEO, 1998 – present, South Africa 
Education
University of the Witwatersrand, South Africa
 Stellenbosch University, South Africa
Other professional associations 
Chancellor of the University Cape Town
Council member of Harvard Kennedy School Center for Public Leadership 
Council Member of Harvard Women's Leadership Board
Member of the Giving Pledge