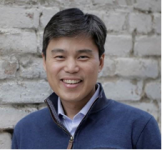 Jeff Wong
EY Global Chief Innovation Officer
Jeff is the EY Global Chief Innovation Officer, challenging everything from the way EY operates internally to how we provide services to our clients.
He leads the global innovation network across Areas to help identify, share, and scale the best ideas. He also spearheads EY Global Innovation team's remit to research and explore new technologies -- including establishing EY's advanced and emerging tech labs on Artificial Intelligence, Blockchain, Quantum, and Web3. 
He brings deep experience across strategy, investing, and building new ventures globally. Throughout his career, he has built new businesses across various concepts, including local commerce, B2B exchanges, services, mobile and big data at Boston Consulting Group, JAFCO America Ventures, J.P. Morgan Partners, and eBay.
Jeff sits on the Advisory Board for AI4All, a non-profit organization working to increase diversity and inclusion in artificial intelligence. He is also a member of the Forbes Technology Council and a member on the Business Council of the Asia Society and the founding Chair of Asia Society's Technology and Innovation Council, helping drive the innovation and transformation agenda. In addition, he is a member of the Council on Foreign Relations and a member of The World Economic Forum's Global Future Council on Innovation Ecosystems. He has previously served on the Oxford Foundry Board at Oxford University. 
Jeff has an AB in Economics, master's degrees in Industrial Engineering and Engineering Management and an MBA from Stanford University.
Other credentials: 
Member of Council on Foreign Relations (June 2022 – present) 
Member of the National Committee on US-China Relations (December 2021 – present) 
Founding chair of the Technology and Innovation Council at the Asia Society, leading its innovation and transformation agenda (July 2021 – present)
Member of the Wall Street Journal CIO Network (June 2020 – present) 
Member on the Asia Society's Business Council (July 2020 – present) 
Finance Leaders Fellow with the Aspen Institute (June 2019 – present) 
Forbes Technology Council contributor (2019 – present) 
Oxford Foundry Board, Oxford University (October 2017 – present) 
Advisory Board for AI4All, a nonprofit organization working to increase diversity and inclusion in artificial intelligence (June 2017 – present) 
Member of the World Economic Forum's Global Future Council on Innovation Ecosystems and WEF Global Future Council on Innovation and Entrepreneurship (2019) 
Speaker at Global Milken Institute Conference (2018) 
Recent Bylines
To note, many of Jeff's contributions have been through his LinkedIn Newsletter, Innovation Re:Imagined.
Generative AI's future in the enterprise: To infinity and beyond (fastcompany.com) (May 2023)
Plenary I: The Future of Artificial Intelligence—Risk and Reward - YouTube (May 2023)
ChatGPT and Generative AI: Exploring the Impact on Work, Interactions, and Creativity - YouTube (April 2023)
(23) Behold the mobile robot: tomorrow's "power tool" of choice? | LinkedIn (April 2023)
Metaverse: Explain it like we're 5th graders - Lenovo Late Night IT (cio.com) (March 2023)
Investing In AI, Intelligently (forbes.com) (February 2023)
(95) Three reasons why ChatGPT makes GPT-4 really exciting | LinkedIn (December 2022)
Investing in tomorrow's innovations today | Reuters (December 2022)
Cutting Through the Web3 Hype: AI In The Decentralized Web (forbes.com) (August 2022)
(99+) What real world realities might impact the metaverse evolution? | LinkedIn (June 2022)
Five questions business leaders should be asking about Web3 (fastcompany.com) (June 2022)
https://www.youtube.com/watch?v=nn38ZJ2A2Nw (April 2021)
The metaverse: An innovation worth leadership attention (fastcompany.com) (December 2021)
Emerging Tech Topics
Gen AI/ChatGPT: GPT has captured our imaginations and is an impressive step for natural language generation and deep learning – tackling an astonishing range of language-based tasks without supervision. Unlike ads or other AI-driven mechanisms, ChatGPT responds in a human way. Its output isn't yet perfect, but its human-like features have proven the tangible use cases of the technology. And, with ChatGPT reaching one million users within a week of release in December, the interest is definitely there. Jeff can not only share background on generative AI, including its capabilities and limitations, but discuss how we've reached a critical moment in the democratization of generative AI, which is imperative for driving user adoption and public trust in AI. Jeff can discuss how businesses can responsibly experiment with and assess the technology's innovation potential, and share compelling use cases he's seen across EY and the broader industry. He can discuss how GPT-4 has given innovators a great platform to work with and share his outlook for GPT-4.5, among other advancements.
Separating the Quantum Hype from Reality: With quantum computing, Jeff believes the substance is what makes it really exciting. He's seeing modeling-related tasks and the enhancement of ML and AI systems as quantum computing applications with some of the greatest potential to generate value for organizations across different sectors. Specifically, he can dive into the potential it's driving in industries like health and life sciences and advanced manufacturing. 
Web3: While it may be difficult to imagine what the decentralized web will look like, Jeff believes many of the fundamental technologies required to build this future already exist. As more people talk about the disruptive potential of Web3, he can dive into the critical innovations where global leaders should be shifting their attention now that will play a role in propelling Web3's future adoption (including the metaverse, NFTs and DAOs).
AI: IDC has predicted that we'll see global spending on AI surpass $300 billion in 2026. However, this increased spending does not mean organizations are effectively deploying the technology. Jeff has led EY's AI journey and helped it evolve from one beta experiment to having over 20 AI products used on 15,000 engagements in 100 languages. With more technology firms announcing investments in the generative AI or developing their own ChatGPT tools, Jeff believes organizations must prioritize AI investments that align with company-wide goals and drive ROI. To drive this latest stage of the global AI race, Jeff believes organizations must pivot away from "trial-and-error" and build strategic leadership teams to transform AI into an integrated engine of the firm. 
Software Robots: Many think of robots in terms of hardware and the machines performing physical tasks. Less discussed, yet equally powerful, are the "invisible" software robots that are increasing productivity and uplifting jobs. There are many AI-driven uses that are often overlooked yet increase workplace efficiency. Jeff can discuss takeaways that tech leaders should consider when implementing software robotics within organizations, such as the industries they're in, the impactful tasks/results they're performing, and the importance of organizations having leadership that cultivates a symbiotic bot-to-human workforce. Mobile robots are being used in many offices, and experimentations are underway to determine the best uses on a case-by-case basis. While there is not a "one size fits all" approach with robots in the workplace, Jeff can discuss how to prepare for mobile robots in the office and how companies can find the right robot for their capabilities.