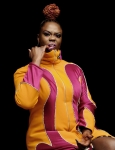 Caroline A Wanga
CEO of Essence and Chief Growth Officer of Essence Ventures
Caroline A. Wanga is the President & Chief Executive Officer (CEO) of Essence Ventures – a portfolio of brands that aims to activate a boundary-less and frictionless global Black economic ecosystem. Essence Ventures brands include ESSENCE, the number one media, technology and commerce company dedicated to Black women and communities; Afropunk, the multi-medium platform that uplifts and unleashes Black expression and individuality now and in the future; BeautyCon, the experiential and content focused platform that aims to transcend the aesthetic of attraction and enable an  individualized empowered existence and experience on what beauty is; and Essence Studios, a production studio and original content hub  focused on authentic Black story-telling, story-making, story-sharing, and story-doing. 
Caroline joined Essence Ventures as Chief Growth Officer in 2020 from the Target Corporation, where  she served as Chief Culture, Diversity and Inclusion Officer. She began her 15-year Target career in  supply chain, serving in a variety of transformational leadership roles, including modernizing Supply  Chain, Business Intelligence, and Digital and Strategy capabilities. 
Prior to Target, she held several roles  in the non-profit sector. A self-proclaimed cultural architect with a passion for constructing,  deconstructing and reconstructing organizational culture, she champions and inspires authenticity and  thrives in innovative environments. With a background in corporate and community leadership, her  career expands over several disciplines and capabilities including youth development, grant-writing,  community organizing, supply chain, human resources, equity, culture and media. 
Caroline has worked her way up from entry-level positions to the highest of senior leadership roles and  is passionate about modeling what she teaches. Her "real-talk" delivery, witty thought leadership and  unmitigated perspective on authenticity as a differentiator for individuals and organizations, make her a  highly sought-after keynote speaker, equity strategist, thought leader, and community influencer. She  unapologetically believes that who each person is, is non-negotiable and is often quoted saying, "Who  you are is who you are. If you cannot be who you are where you are, you change where you are not who  you are." 
In 2020 she co-founded WangaWoman LLC., whose mission is to "Democratize Authenticity." Among other accolades, Wanga has been awarded the "Anthem Award" for Business Leader of The Year – Diversity, Equity and Inclusion, the Steve and Majorie Harvey Foundation "Helping Hands" Award, and the For(bes) The Culture AfroFuture Award. 
She has two honorary doctorate degrees from her alma  mater Texas College and Dillard University, respectively. She has been previously named Top Executive  in Corporate Diversity by Black Enterprise and recognized by Savoy as one of the Most Powerful Women  in Corporate America. She is a member of the Executive Leadership Council (ELC,) the American Airlines  Community Council, and the McDonalds MultiCultural Marketing Advisory Council. She is a former  member of the Talladega College Board of Trustees, previously served on the Intersectionality, Culture,  and Diversity Advisory Board for Twitter and served as co-chair of the Retail Industry Leaders  Association (RILA) Diversity & Inclusion Initiative. She earned her bachelor's degree from Texas College,  a Historically Black College/ University (HBCU,) is a Kenyan citizen, and her life's greatest  accomplishment is her daughter, Cadence.