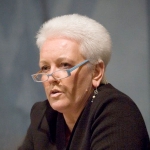 Gayle E. Smith
Former Administrator of the United States Agency for International Development
Gayle E. Smith is CEO of the ONE Campaign. She has served as a top advisor on international issues for three American presidents and is one of the world's leading experts on global development and global health security. She brings an unparalleled expertise and an extraordinary network of relationships across the African continent and around the world. 
In 2021, Smith took on a temporary role at the request of the Secretary of State and served as US State Department's Coordinator for Global COVID Response & Health Security, where she played a leading role in the US effort to end the global pandemic. Prior to joining the ONE Campaign, Smith served as the Administrator of the United States Agency for International Development, where she led a staff of more than 10,000 people working to end extreme poverty, foster sustained and inclusive economic growth, and promote resilient, democratic societies all over the world. 
Smith had previously served as Special Assistant to President Obama and Senior Director for Development and Democracy at the National Security Council, where she played a lead role in the response to the Ebola epidemic and presidential development initiatives including Power Africa and Feed the Future.