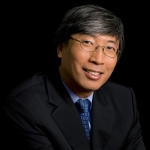 Dr. Patrick Soon-Shiong
Executive Chairman, NantWorks
Patrick Soon-Shiong, MBBCh, MSc, FRCS (C), FACS
Patrick Soon-Shiong, MD, is a surgeon, scientist, inventor, and philanthropist with over 500 issued  worldwide patents and 100 scientific publications. He serves as Chairman and Chief Executive Officer of  NantWorks, an ecosystem of companies with developments in a wide variety of complex industries,  from medical science to biomaterials, from data transport to AI and from communications to mobility. 
In 2001, Dr. Soon-Shiong founded American Pharmaceutical Partners (APP), which produced over 300  million vials of injectable products annually for cancer, infectious disease, and critical care. In 2005, the  FDA approved his invention Abraxane, the nation's first protein nanoparticle chemotherapy for breast,  lung, and pancreatic cancer. Abraxane has achieved over a billion dollars in annual global sales and has  been placed in the medical history collections at the Smithsonian National Museum of American History. 
In 2011, Dr. Soon- Shiong founded NantWorks to establish an organization addressing health care, clean  energy and communication. Under this umbrella, he serves as Executive Chairman of ImmunityBio, Inc.,  a leading biotechnology company focusing on first in class vaccines, cytokines and natural killer and T  cell therapy for cancer and infectious diseases; Chairman and CEO of NantHealth, a Nasdaq listed  healthcare company converging biomolecular medicine and bioinformatics with deep learning AI to  empower physicians, patients, payers, and pharma to deliver the right care at the right time; Chairman  of NantG Power, a privately-held Graphene-based lithium battery company; Chairman of Calcean and  NantBioPlastics accelerating the worldwide transformation to renewable biomaterials and developing  industrial-scale methods of bioplastics manufacturing; and Owner and Executive Chairman of California  Times, publisher of two of the state's largest newspapers, the Los Angeles Times and The San Diego  Union-Tribune. 
Dr. Soon-Shiong is also Chairman of the Chan Soon-Shiong Family Foundation and of the Chan Soon Shiong Institute of Molecular Medicine, a nonprofit medical research organization and minority owner  of the Lakers. 
In 2021, Dr. Soon-Shiong established NantAfrica, Nant South Africa (NantSA), and Nant Botswana  (NantBW) to establish a coalition of organizations for the acceleration of advance health in Africa with  the goal of manufacturing a billion doses of vaccines in South Africa by 2025. In 2022, he supported the  launch of the non-profit organization, Access to Advanced Health Institute, AAHI, to continue the  ground breaking research of the former IDRI institute. 
Born and raised during apartheid in South Africa, Dr. Soon-Shiong has lived in Los Angeles since 1980  and is a citizen of the United States.