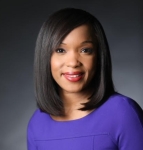 Folly Bah Thibault
Journalist & Principal Presenter for Al Jazeera English
FOLLY BAH THIBAULT BIO 
Folly Bah Thibault is a journalist, Principal Presenter for Al Jazeera English, based in Doha, Qatar.  She is the founder and president of the NGO 'Elle ira à l'école' Fondation Kesso Bah- which promotes the education of young girls in Guinea and the West Africa Region. Folly is also Global  Champion for Education Cannot Wait, the UN's Global Fund for Education in Emergencies and  Protracted Crises.  
She joined Al Jazeera Media Network in 2010, having previously worked at the French news channel, France24 in Paris and Voice of America in Washington D.C. As such, Folly has covered some of the world's biggest news stories and hosted some of Al Jazeera's most important specials and award-winning programs including the first-ever debate of candidates for the post of UN Secretary-General in July 2016 and the Nobel Peace Prize Interview in Oslo since 2016. 
She has interviewed some of the world's top leaders, newsmakers, and other influential people including Bill Gates, UN Deputy Secretary-General Amina Mohammed, and Nobel laureates  Malala Yusufzai, Wole Soyinka and Dmitry Muratov. 
Folly's ability to break down complex news stories and present them to the viewers in a smart and unbiased way has garnered her praise and recognition. She has moderated high-level summits and panel discussions for organizations like the United Nations, the European Union and the African Union.  
Folly Bah Thibault was born in Conakry, Guinea. She holds a Bachelor's degree in Broadcast Journalism from Howard University and a Master's degree in International Communication from the American University in Washington D.C. She is fluent in English, French, Peulh, and she knows conversational Swahili.