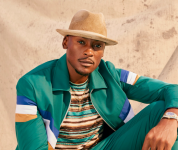 Bismack Biyombo
NBPA, Bismack Biyombo Foundation, principal funder of the Kivu International School
Bismack Biyombo Sumba is a Congolese professional basketball player. He currently plays for Phoenix Suns of the National Basketball Association (NBA). He was selected with the seventh overall pick in the 2011 NBA draft by the Sacramento Kings and subsequently traded to the Charlotte Bobcats (now Hornets). Biyombo has also played for the Toronto Raptors and the Orlando Magic.
 Born in Lubumbashi, Congo, Bismack speaks five languages: English, Spanish and French, along with Swahili and Lingala. He is an alum of the NBA's Basketball Without Borders Africa tour of September 2016 in Angola and played in NBA Africa Game in Johannesburg in 2015 and 2017.
 He travels regularly back to Africa and the DRC where he spends most of his Summers. He is passionate about giving back to his country and have invested to impact the local communities. He is the principal funder of the Kivu International School in Goma which open in September 2017. The expansive facility features a variety of classroom buildings, a library with more than 8,000 books, a 135-seat auditorium and an artificial turf soccer pitch.
 He also funded the Bismack Biyombo Basketball Stadium, the first covered basketball stadium in the DRC and one that will seat 1,000 fans. He has provided scholarships to over 20 DRC students to the attend college in the U.S.
Bismack was honored in 2018 at the BET Awards with the International Global Good Award, which recognizes global celebrities and public figures who use their platform for social good and exemplify integrity, courage, goodness and commitment to the global community.