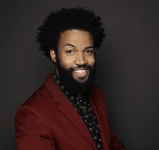 Denim Richards
CEO, Khumo Studios
Denim Richards has been performing for over two decades with over 40+ credits spanning  from Theater to Television and film. He can currently be seen starring in the role of 'Colby  Mayfield' opposite Kevin Costner in the hit Paramount Network series "Yellowstone," for the  past five seasons. Which is cable's #1 show in America, and is poised to be the #1 in the world  by 2024! 
Denim is also currently playing the role of 'Elijah" on the hit Freeform show, "Good Trouble". Additionally, Denim has starred as 'Jack Brown' in the feature film, "The Chickasaw Rancher," which tells the remarkable story inspired by the life of renowned Chickasaw cattleman  Montford T. Johnson which is currently out on NETFLIX, as well as, having his two new movies  "County Line" that he stars in alongside Hollywood legend Tom Wopat (Dukes of Hazard) out  now on Amazon prime. 
Denim is not limited to acting as he is also a writer, producer and director with the 2021 short  film "The Zoo" that chronicles the heroic story of Africans in the Holocaust and their  unyielding will to never surrender, which was accepted into the "Pan African Film Festival" an Oscar qualifier.  
Denim relocated to Botswana in 2020, where he co-founded Khumo Studios with two  Batswana media professionals, positioning it to become the premier entertainment, film and  TV production studio for Africa. Denim's goal is to tell original African stories through the lens  of the African people to be exported to the rest of the world. As the CEO of Khumo Studios; 
Denim was invited to give a presentation on the state of the entertainment industry in  Botswana at both the day and night sessions of the 2023 FNB Botswana Budget  Review.

He has brokered a partnership with Zambian production company Kazadi Films. Held and presented a Two-day Masterclass in Zambia for hundreds of entertainment  industry creatives. 

Denim was also Forbes 2023 30 Under 30 speaker in Gaborone, Botswana. 

Hosted a Ted X talk in Namibia on Africa Youth in Tourism Innovation Summit 

And was a keynote panelist at Forbes 30 Under 30 event in Gaborone. 

Hosted "Understanding the Business of Entertainment" Masterclass for over 1300  entertainment industry hopefuls and professionals at the University of Botswana. 

Created a platform for African women in the creative industry to showcase their  talents and network called Mosadi Khumo. 

Keynote speaker at the 2023 US/Africa Summit held in Botswana. 

Partnering with South African production company Ochre Moving Pictures to develop  and produce a one-hour drama series. 
Khumo Studios, with Denim Richards at the helm, have begun to expand into several other  African countries including Tanzania, Zambia, Namibia, Malawi, South Africa and Kenya.  
Denim is slated to be a keynote speaker for the 2023 MIP Africa FAME Week – Film, Arts,  Media & Entertainment addressing: Cracking the Code: Understanding the African Market  for International Television and Film Content. While also moderating various panels at the  same event. 
"By all moral means necessary, Win" - Denim Richards