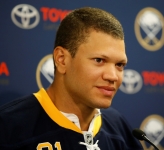 Kyle Okposo
Captain, Buffalo Sabres, National Hockey League
Kyle is entering his 17th season in the National Hockey League and second as the captain of the Buffalo Sabres. He has helped to foster an environment of excellence within the Buffalo Sabres over the past number of years. Under Kyle's leadership, the Sabres have seen significant rises in the league standings while boasting one of the youngest rosters in the league. In 2022, Kyle was selected to lead a committee of his peers in search of the next Executive Director of the National Hockey League Player's Association. After an extensive search, the committee tapped Marty Walsh to lead this effort, who was the Secretary of Labor under President Biden. 
On the ice, Kyle has totaled 230 career goals and 362 assists. He was a seventh overall draft pick to the New York Islanders in 2006 and a participant in the 2017 NHL All-Star Game. He has also represented the United States at three IIHF World Championships (2009, 2010, and 2012) and two IIHF World Junior Championships (2007 and 2008). 
Kyle lives in Buffalo, New York with his wife Danielle and their four children. He enjoys being an active member of the community as well as golfing, coaching his kids in various sports, and spending time with his family.