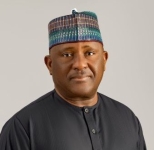 Abdul Samad Rabiu
Founder & Chairman, BUA Group
An astute businessman, philanthropist and industrialist, Abdul Samad Rabiu is the Founder and Chairman of BUA Group – a company which he established in 1988 and has grown to become one of Nigeria's largest privately-owned foods, manufacturing and infrastructure conglomerates with diversified investments spanning key business sectors of the Nigerian economy. He is also the founder of the Abdul Samad Africa Initiative, ASR Africa – an African focused Fund for Social Development and Renewal which seeks to support Nigeria and other African countries in the areas of Health, Education, and Social Development. 
BUSINESS
Under Abdul Samad's astute leadership, BUA has grown steadily over the years to entrench itself as a leading player with holdings in cement, sugar, rice, flour and pasta, edible oils, logistics, agriculture, construction, port operations, and real estate. With a firmly established reputation for innovation, BUA Group is one of the largest contributors to Nigeria's GDP and among its largest employers of labour.
After finishing his degree in Economics from Capital University, USA, Abdul Samad returned to Nigeria from the United States and joined the family business, the IRS Group, until 1988 when he set up BUA Group to engage in importing and trading in major commodities like rice, edible oils, flour, pasta, and iron/steel rods. He later ventured into steel, billets, and iron ore importation, supplying multiple rolling mills in Nigeria.
EXPANSION & MANUFACTURING
Few years down the line, BUA acquired Nigerian Oil Mills Limited in 2001 which was at the time, the largest edible oil processing company in Nigeria. He was later to set up 2 flour milling plants in Lagos and Kano in 2005. By 2008, BUA, under Abdul Samad's astute leadership, commissioned the second largest sugar refinery in sub-Saharan Africa. He then went on the acquire a controlling stake in the publicly listed Cement Company of Northern Nigeria (Sokoto Cement) in 2009 and commenced the construction of the over $1billion cement manufacturing complex in Obu-Okpella, Edo State commissioned in 2015 which was at that time, the single largest non-oil investment in South-South Nigeria and had a capacity of 6million metric tonnes per annum upon completion of the second line. This was a followed by a new 1.5million metric tonnes line in Sokoto in 2018 and another 3million metric tonnes line 2hich commenced in 2020 and was commissioned in 2022 bringing the total installed capacity for his cement holdings to 11million metric tonnes as of January 2022.
Other recent investments by the company include the $300million, 20,000hectares Lafiagi Sugar Estate project as part of the Nigerian Government's Backward Integration Plan for the Sugar Industry which comprises a sugar mill, sugar refinery, ethanol processing plant and 35MW power plant. The company also built an export focused refinery in Port Harcourt – the only destination sugar refinery in sub-Saharan Africa and commenced new investments in flour milling and pasta production.
Abdul Samad Rabiu also announced the construction of a 200,000barrels per day petrochemicals refinery to be situated in Akwa Ibom state, Nigeria and signed an agreement with Axens of France in August 2020 for the refinery aimed at solving Nigeria and West Africa's petroleum refining needs.
MERGERS & PUBLIC LISTINGS
In January 2020, Abdul Samad Rabiu merged his privately owned Obu Cement Company with the publicly listed Cement Company of Northern Nigeria, where he already held a controlling stake in a 3.3billion dollars transaction. The resultant company from the merger, BUA Cement Plc, was the third largest company on the Nigerian Stock Exchange by market capitalization upon listing. 
He followed this success with a consolidation of all his foods businesses in Sugar, Edible Oils, Rice, Flour & Pasta Milling into a new company, BUA Foods Plc, which was also listed on the Nigerian Exchange in December 2021.
Both companies sit today among the top ten most valuable publicly listed companies in sub-Saharan Africa.
A former chairman of Tropical Continental Bank from 1993 to 2000, two-time former Chairman of Nigeria's Bank of Industry, current Chairman and majority shareholder in BUA Cement Plc & BUA Foods Plc, Abdul Samad's ever-expanding conglomerate boasts of several subsidiaries. 
Today, the BUA Group has been nurtured from a relatively small company in 1988 to a world-class conglomerate contributing significantly to the country's GDP while providing employment opportunities for tens of thousands of Nigerians. These are in addition to heavy portfolio investments in key sectors of the Nigerian economy. 
PHILANTHROPY AND SOCIAL IMPACT
In addition to his economic contributions, Abdul Samad Rabiu, through the BUA Foundation and more recently, his Abdul Samad Rabiu Africa Initiative (ASR Africa), has also contributed immensely to various philanthropic and social development activities in different areas from healthcare to education, sports, water & sanitation amongst others. 
In October 2022, Abdul Samad Rabiu, through ASR Africa, donated US$500,000 to the United States Agency for International Development to partner on Tuberculosis (TB) control, HIV, and gender-based violence (GBV) prevention efforts in Nigeria. Through this partnership, ASR Africa's contribution will provide: 11 loop-mediated isothermal amplification diagnostic machines, also known as TB-LAMPs, with laboratory reagents and consumables; renovation of 10 Tuberculosis Directly Observed Therapy or DOT centers; and approximately 1,200 dignity kits for survivors of gender-based violence across selected states in Nigeria. 
Prior to this partnership, he commenced the ongoing development of a N7.5billion 200-bed specialist hospital in Kano State and during the global COVID-19 pandemic, Abdul Samad Rabiu championed Nigeria's donation to the Covid-19 intervention by a single individual or corporate donating amongst other things, 1.35billion Naira to the CACOVID Private Sector Coalition; 300million Naira to the Presidential taskforce on Covid-19; over 1billion Naira in cash donations to 10 state governments across the country; about 70 ambulances provided for over 15 states as well as the donation of medical equipment, facemasks, provision of raw/dry foodstuff for over 1.5million persons in Kano, Lagos and Rivers states, and the construction of health infrastructure. 
In 2021, Abdul Samad Rabiu set up the Africa Fund for Social Development and Renewal through his ASR Africa Initiative. So far, the initiative has donated and/or commenced projects across Nigeria and Ghana including the 4billion Naira Police Hospital in Abuja, and donated 1billion Naira each for 6 universities across Nigeria through the ASR Africa Tertiary Education Grants Scheme for infrastructural development. The beneficiaries of the 6billion Naira Tertiary Education Grants Scheme are, Ahmadu Bello University, University of Ibadan, University of Maiduguri, Nnamdi Azikiwe University, University of Ilorin, and University of Benin.  
In addition, his ASR Africa initiative also donated 2.5billion Naira each through its tertiary healthcare Development Grants for health projects across 4 geopolitical zones in the country. These funds are being channeled towards projects in Sokoto, Ogun, Kwara and Edo States and include an Oncology and Diagnostic Centre in Ilorin, which is expected to be the largest in West Africa; the construction of the College of Medical Sciences at the Sokoto State University, and other infrastructure at the School of Nursing, Tambuwal, and the School of Health Technology, also in Sokoto State. These are in addition to 5billion Naira donated to build the first teaching hospital in Akwa Ibom State.
Abdul Samad Rabiu has always heeded the call to support in times of crisis, the latest being his donation to victims of flooding in Gombe State and Bauchi States. In the North-East of Nigeria, Abdul Samad Rabiu continues to be one of Nigeria's largest private donors to reconstruction and development efforts. More recently, he also announced a donation of N10bn Security Support Fund to the Nigerian Government.
Abdul Samad Rabiu, through his various business interests has also been a champion of protecting the environment through his investments in manufacturing plants that meet or exceed stringent environmental standards with a focus on recycling most of their waste products, the use of cleaner energy sources like natural gas whilst reducing the environmental impact of their operations. These businesses are also involved in various community projects across Nigeria from Water and Sanitation, Electrification, Education and Sports in line with the United Nations Sustainable Development Goals.
As a testimony to hard work, an indefatigable entrepreneurial spirit and consistently championing Nigeria as a preferred investment destination in Africa, Abdul Samad Rabiu was reappointed by President Emmanuel Macron of France as the President of the France Nigeria Business Council in June 2022.   
A recipient of many awards, Abdul Samad Rabiu was awarded the 2022 CEO of the Year at the African CSR Awards, 2016 African Industrialist of the Year Award by the All-Africa Business Leaders Awards. Other awards include the 2022 Sun Man of the Year Awards, 2020 Vanguard Businessperson of the Year, and the New Telegraph Philanthropist of the Year 2021.
A recipient of several honorary doctorate degrees from various universities including the University of Benin, Nasarawa State University, Sokoto State University and Crescent University, Abdul Samad Rabiu is a fellow of the Institute of Directors, and he currently holds the prestigious Nigerian national honours of Commander of the Order of the Federal Republic (CFR) and Commander of the Order of Niger (CON) as well as the highest civilian national honour in Niger Republic.