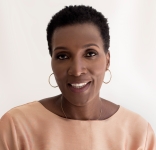 Moky Makura
Executive Director, Africa No Filter
Moky Makura was born in Nigeria, educated in England and has lived in London, Johannesburg and Lagos. She has been a TV presenter, producer, author, publisher and a successful entrepreneur in her own right. She is currently the Executive Director of Africa No Filter, a donor collaborative focused on shifting the African narrative.  
Moky started her media career as the African Anchor and field reporter for South Africa's award-winning news and actuality show – Carte Blanche. She conceptualized, co-produced and presented a lifestyle TV series for the pan African pay TV channel MNet called "Living It", which focused on the lifestyles of the African continent's wealthy elite.  She also played a lead role in the groundbreaking and popular MNet Pan-African drama series Jacob's Cross. 
Her book Africa's Greatest Entrepreneurs with a foreword written by Richard Branson, featured on the top 10 best-selling business books in South Africa when it launched.  Moky has since compiled and published a number of non-fiction titles under her imprint MME Media. Titles include South Africa's Greatest Entrepreneurs, Going Global which tells the stories of South Africa's most successful global companies and a biography of one of its top entrepreneurs; Herman Mashaba, called Black Like You.  Moky started a fiction book series called Nollybooks aimed at getting young Africans to read, and then adapted the series for television co-producing over 21 television movies for the South African TV station etv. The books are available on Worldreader, and Okadabooks.