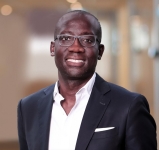 Dr. Acha Leke
Senior Partner, Chairman McKinsey & Company Africa
Dr. Acha Leke is a Senior Partner in McKinsey's Johannesburg office, Chairman of McKinsey's Africa practice, and a member of McKinsey's Shareholders Council – its global governance board. He started his career at McKinsey & Company as a Summer Associate in South Africa in 1998. He rejoined the Firm in Atlanta in 1999 and transferred back to Johannesburg in 2002 to help expand the Firm's activities across Sub- Saharan Africa. Acha relocated to Lagos in 2010 to open up the Firm's newly established office in Nigeria, and returned to South Africa in 2014. He leads the Firm's Private Equity Practice in Africa and is a member of the McKinsey Global Institute (MGI) Council. Until December 2018, he led the Firm's Public and Social Sector Practice in Africa and was also the Senior Partner in charge of Global Recruiting for McKinsey worldwide.
Acha serves governments, multinational, and private sector institutions across Africa on issues of economic development, tax administration, growth strategies, holistic transformations, and investment decisions. He has worked across over 20 African countries to date.
Prior to McKinsey, Acha worked as a part-time Consultant on novel techniques to linearize High Power Amplifiers for wireless applications, while completing a Ph.D. in Electrical Engineering at Stanford University. He also received an M.S. in Electrical Engineering and an M.S. in Industrial Engineering and Engineering Management from Stanford University, as well as a Bachelor of Electrical Engineering summa cum laude, with a minor in Economics, from the Georgia Institute of Technology where he graduated as Valedictorian (first Black Valedictorian in the School's history) and was elected to Tau Beta Pi and Eta Kappa Nu.
Acha is a co-founder and member of the Global Advisory Council of the African Leadership Academy, a co-educational boarding school which aims to develop the next generation of African leaders.  He is also a co-founder of the African Leadership Network, a network of the current generation of African leaders who aspire to bring prosperity to the Continent. He is a World Economic Forum (WEF) Young Global Leader Alumni (2008), and has received numerous recognitions including Africa's Young Investment Professional of the year (Africa Investor, 2008); Top 40 men under 40 in South Africa (Destiny Man, 2010); Top 10 Youngest Power Men in Africa (Forbes, 2011); 50 Most Influential Africans (Africa Report, 2012, 2019; Jeune Afrique, 2018); 100 Most Influential Africans (New African, 2012, 2014, 2015, 2016; Jeune Afrique, 2019); Top 20 next generation Francophone Africans (Forbes, 2013); Top 40 under 40 in Nigeria (Business Day, 2013); Top 20 Rising Stars in Africa (Euromoney, 2014).
He served on the WEF's Global Future Council on Economic Growth and Social Inclusion for 2 years, after having served for 8 years on the Global Agenda Council for Africa; he also served on ONE's Africa Policy Advisory Board. He is a member the Lagos Business School Advisory Board, and of President Kagame's African Union (AU) Reform Steering Committee. He co-authored McKinsey's highly acclaimed series of Lions on the Move reports and the latest book Africa's Business Revolution: How to Succeed in the World's Next Big Growth Market. He is regularly featured in various media (CNN, CNBC, Bloomberg, Economist, FT, Wall Street Journal, Jeune Afrique, Harvard Business Review, etc.). 
Acha is from Cameroon and is fluent in both English and French.