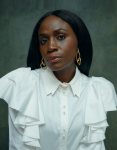 Omoyemi Akerele
Founder & Executive Director, Style House Files and Lagos Fashion Week
Omoyemi Akerele is an experienced, renowned creative economy change agent and social entrepreneur with over 20 years of notable achievements in the areas of youth development, job creation, circular fashion development, showcasing and discovering talent and creating access to the market globally for Africa's evolving textile and apparel industry while working with multilateral agencies like United Nations agencies – UNIDO, She Trades and UNESCO; not for profit agencies like British Council, British Fashion Council, Best Seller Foundation; public sector agencies like Nigerian Export Promotion Council, Lagos State Employment Trust Fund, Industrial Trust Fund, Nigerian Employers Consultative Association and private sector companies and Heineken. 
Omoyemi drives change across the ecosystem through her current position as Founder and CEO at Style House Files, Lagos Fashion Week where she applies core economic development principles to connect the missing gaps that exist within the African textile and apparel ecosystem such as capacity-building, skills development, access to capital, infrastructural development, artisanal skills preservation and closing the loop. 
Exhibits a motivational management style with a proven history of empowering creatives and providing launch pads for their creative career development through initiatives that have successfully empowered youths, created jobs, facilitated entrepreneurship and generated a ripple effect that's gradually filtered into the entire value chain.